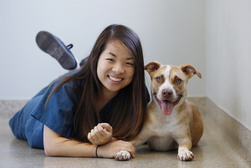 Ori Nagasaka, CVA (Certified Veterinary Assistant)

Ori was born in San Gabriel, CA and grew up in the the midwest. She moved back to California to attend UCLA, where she is currently a pre-vet student pursuing a bachelors degree in Biology. In her free time, she loves playing tennis, hiking, going to concerts, and taking her dog Raffy to the beach. Ori has a special way with our dog and cat patients, always putting them at ease with her gentle nature.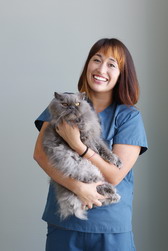 Cory Wakamatsu, CVA (Certified Veterinary Assistant)
A Los Angeles native, Cory grew up in Santa Barbara received her BS in applied mathematics from U.C. San Diego, where she also minored in music and African studies. Legend has it that Cory was raised by the family dogs; chasing cats and barking at the mailman, smelling bushes and sleeping on the floor. After domestication, she developed a passion for guinea pig breeding around age six and would go behind her mother's back(she believed 30 guinea pigs was enough)to just try one more gene crossing, intent on getting the most recessive phenotypes. She's taken care of rats, rabbits, ferrets, hamsters, guinea pigs, dogs, cats, chickens, mice, snakes, bearded dragons, and volunteered at animal shelters and farms. In her free time, Cory enjoys hiking tall mountains (Mt. Whitney, Mt. Kilimanjaro) and scuba diving barrier reefs (Great Barrier Reef, Mesoamerican Barrier Reef). She is an avid drummer, from playing in a punk band to soloing on kettle drums in Carnegie Hall, to performing traditional Taiko drums in Japanese festivals from San Diego to San Jose.
Cory has two cats; a calico , Chloe, and a Maine coon mix, Thor, who were found as orphaned kittens under a remodeled house. She loves them and they tolerate her.
In addition to working here, Cory is currently pursuing a second bachelor's degree in Microbiology, with plans to attend veterinary school in the future. Every patient at WHAH further inspires her to pursue her dream of becoming a veterinarian.