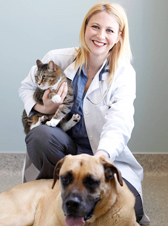 Dr. Monica Revel, Owner
Dr. Revel feels fortunate to be able to do what she loves and feels passionately about. She looks forward to going to work each and every day. She is a proud graduate of the top ranked U.C. Davis School of Veterinary Medicine, after first receiving a triple bachelors degree from Brandeis University (triple majoring in Biology, Neuroscience, and Psychology and double minoring in Chemistry and Theater).
While attending college, she joined the mentoring program "Big Brothers/ Big Sisters of America" where she was paired with a "little sister" who inspired her to become a veterinarian.
A retired singer and musician, she has performed on Broadway, sung the National Anthem at NBA basketball games, and played her original music at numerous bars and clubs in Los Angeles and New York City.
Prior to opening WHAH in 2012, Dr. Revel worked at over 30 animal hospitals including General Practices, Specialty Practices, Emergency Rooms, and performed over 20,000 spays and neuters for Los Angeles area shelters! Dr. Revel has been a vegan for the last 20 years. She lives locally with Joplin (a stray Great Dane rescued in 2003), Peter (adopted from a pot bellied pig rescue in 1995), Toast (a cat whose rescue in 2010 can be read about here), her husband (rescued from bachelorhood in 1995), and her three human children.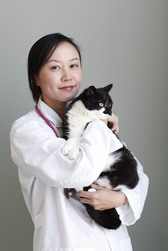 Dr. Carol Shih, DVM
Dr. Shih received her Doctorate of Veterinary Medicine from the University of Illinois in 2002 and completed a competitive rotating Internship at VCA West Los Angeles Animal Hospital. She has a special interest in feline medicine, emergency/critical care, and surgery.
She was born in California, but at the age of one, moved to Taiwan. She remained in Taiwan for a decade before moving to Illinois where she spent the rest of her formative years.
Dr. Shih shares her home with two cats, Mihiki and Tomo. When she is not at the hospital, she enjoys gardening and snowboarding. She is a classically trained soprano and sings regularly as a member of the Angel City Chorale.
Dr. O'Donnell is a proud graduate of the University of Pennsylvania School of Veterinary Medicine, earning her Veterinary Medical Degree in 2009.
She grew up in the rainy city of Seattle, WA, but moved to the East Coast to pursue her education. She graduated from Mount Holyoke College with a major in Biology, and when she was not studying, she was at the barn competing on the Varsity Intercollegiate Riding Team.  After a stint as a Research Assistant in a neuroscience lab and working as a Marketing Assistant for an emerging horse pharmaceutical company, Dr. O'Donnell went on to follow her true passion of veterinary medicine.
Returning to the West coast and trading in rain for sunny Southern California, Dr. O'Donnell focused on equine medicine, first in a rotating surgical and medical Equine Internship and then in Equine practice for two years. Realizing that smaller animals continued to call to her, she completed an additional rotating surgical and medical internship at the Animal Specialty and Emergency Center (ASEC), and then on to general practice in the Los Angeles area for the past several years. In her current practice, Dr. O'Donnell is particularly interested in forming long lasting relationships with clients, preventative medicine, dentistry, and surgery, among other areas of interest.
Dr. O'Donnell lives with her dog Nora (rescued in 2013) and Fred, a Chinese Box Turtle that has been with her since the age of 12. In her free time, she enjoys practicing yoga, walking Nora, cooking, quilting and exploring LA.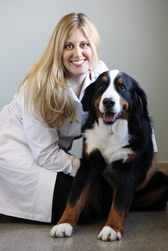 Dr. Katherine Hillebrand, DVM
Dr. Hillebrand joined us after practicing in Chicago's North Shore, where she was raised. She graduated from the University of Virginia (UVA) with a double major in biology and music, where she sang opera and was on the University Riding Team. She received her DVM from Iowa State University College of Veterinary Medicine in 2007.
Dr. Hillebrand went on to complete a competitive rotating internship in medicine and surgery in Charlottesville, Virginia, before she settled back in Chicago for several years. Finally tired of the cold winters, she moved to Los Angeles in 2014. She is thrilled to have found such a wonderful place to practice and is inspired by her patients, clients and coworkers daily.
Dr. Hillebrand has a Bernese Mountain Dog named Moose, who comes to work with her and can be seen playing in the WHAH dog park. In her free time, she can be found running, practicing hot yoga, singing at special events, trying new restaurants, and exploring Southern California.
As a child, Dr. Boling could usually be found surrounded by animals. When not spending time with the family Golden Retriever, Barney, he was frequently pet sitting the neighborhood dogs. He attended the Georgia Institute of Technology where he graduated Summa cum Laude with a BS in Electrical Engineering and a minor in Computer Engineering. Eighteen months later Dr. Boling started his own technology company, which eventually provided special effects systems to the television industry, including CNN, ESPN, Fox, and Univision. Despite the exciting nature of technology, he knew something was missing. After some soul searching, he re-discovered his real passion – caring for cats and dogs. He sold his business and entered veterinary school at the University of Georgia, where he received his Doctor of Veterinary Medicine (DVM) degree in 2008.
Prior to joining WHAH, Dr. Boling worked at small animal hospitals in Los Angeles, Chicago, Michigan and Atlanta. His particular areas of interest include internal medicine, neurology, and feline medicine. When not working, Dr. Boling enjoys time at the gym, playing tennis, and going to the movies. He especially enjoys time with his husband, Rob, and their cats, Christie, Maggie, and Andy.
Vivian Solis, RVT, CVA (Technician Supervisor)
Vivian is a graduate of the VASE registered veterinary technician (RVT) program and is preparing to take her board exam soon to become a licensed technician.
She lives with her Bull Terrier mix, Cannoli and an adorable Pit Bull mix puppy. She has been working in veterinary hospitals for over ten years and loves being a part of this exciting profession.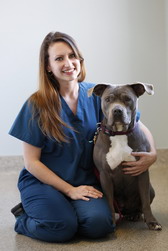 Cassie Burns, CVA/ Reception Supervisor

Originally from Lompoc, CA (Santa Barbara area), Cassie worked in the veterinary industry for four years prior coming to WHAH. She graduated from Santa Barbara City College Cosmetology Academy in 2007, but changed gears and went on to receive a Certificate of Completion in Veterinary Assistant Training from Penn Foster in 2011.
She has a two-year-old son named Rio who loves to color, play soccer, cuddle with their pit bull, Cookie, and talk. Cookie is a coach-potato and a beach lover. Cassie loves spending time with her family, watching movies, going to the beach and dancing.each and dancing.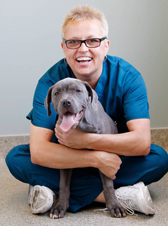 Maria Delavogias, CVA (Certified Veterinary Assistant)
Maria was named one of the top three veterinary technicians in the country by PetPlan! She is a graduate of the VASE veterinary technician program and is currently studying to take her RVT board exam. She grew up in New Jersey in a family that always included dogs and cats. In 1982, she moved to California, and shortly after began her career assisting veterinarians.
Maria started out working in very busy spay/neuter clinics, and eventually worked her way up to full service hospitals. She currently is owned by three gorgeous cats, Spot, Mr. Leo, and Curiosity. Maria's passion and love for animals is evident in the work that she does. She always goes out of her way to make sure each patient is as comfortable as possible.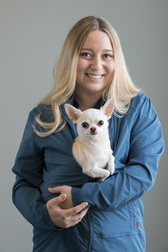 Kelli Bryant, RVT (Registered Veterinary Technician)

Kelli was born and raised all over California and knew at a young age that her passion involved helping animals. After attending school to become a registered veterinary technician (RVT) in Orange County, she moved up to Los Angeles to begin her career as an RVT.
What she loves most about her job is being able to work with such smart and talented people who are just as motivated and dedicated to animals and their health as she is. She currently lives with two chatty kitties named Benny and Jerry who are the loves of her life. On her days off, Kelli enjoys traveling and being with her friends and family.
Toni Taub, CVA/ Kennel Attendant
Toni comes to us with 20 years experience working in animal hospitals! Her loving and gentle nature with our patients will put any pet parent at ease. When she's not walking dogs, keeping cat litter boxes clean, and making sure that all the dogs and cats have fresh food and water, she prides herself on keeping West Hollywood Animal Hospital clean and spotless. We are very happy to have Toni as part of our team!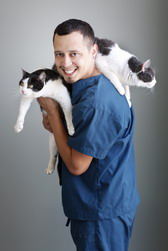 Jonathan Canas, CVA (Certified Veterinary Assistant)
Jonathan was born in Santa Monica and knew he wanted to work around animals ever since obtaining his first job at a pet store. In his free time he enjoys hiking and going to live music concerts. He lives locally with his rescued terrier mix, Beans, and his two cats (pictured), Chicken and Waffles.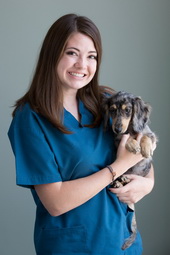 Sarah Nugen- CVA (Certified Veterinary Assistant)

Sarah is originally from Laguna Beach, California. She is an undergraduate student at UCLA, pursuing a major in Ecology, Behavior, and Evolution and minor in Atmospheric, Oceanic, and Environmental Science. She plans on applying to vet school in the future and hopes to one day combine her passion and commitment to animals with conservation, hoping to work with endangered species locally and abroad. Sarah loves to run, hike, snowboard, and find new adventures.
Doneisha King, Reception

Hailing from Cleveland, Doni received her B.S. in Animal Science from Cornell University. She moved to Southern California to pursue a career in veterinary medicine. In her free time she enjoys relaxing with her Yorkshire Terrier, Diamond, drawing, painting, collecting art, and challenging the status quo.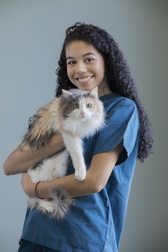 Shailyn Moore, CVA (Certified Veterinary Assistant)

Originally from Atlanta, Georgia, Shailyn relocated to Los Angeles to attend UCLA, where she is currently a pre vet biology major. She loves to swim and be near the ocean, and has always been fascinated by marine mammals. Shailyn has two cats, Max and Sam, and a very sassy dog named Josie. Her favorite part of the job is being able to work with animals and their people.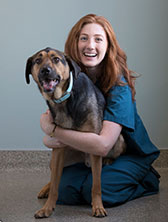 Lydia Hunter, Puppy Playtime Attendant

Being the daughter of a career Navy man, Lydia traveled around the world for most of her childhood. The one constant factor was her love for animals. Since moving to Los Angeles about 3 years ago, Lydia has been able to turn that love into a career training and socializing dogs.
Her partner-in-crime is her happy-go-lucky dog, Traeger, who is a furry film star in the making. He has appeared in multiple commercials and films! When not working, they go for long hikes or play ball in the park, making sure to sniff every flower along the way!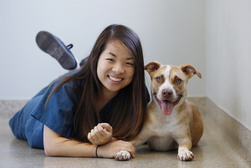 Ori Nagasaka, CVA (Certified Veterinary Assistant)

Ori was born in San Gabriel, CA and grew up in the the midwest. She moved back to California to attend UCLA, where she is currently a pre-vet student pursuing a bachelors degree in Biology. In her free time, she loves playing tennis, hiking, going to concerts, and taking her dog Raffy to the beach. Ori has a special way with our dog and cat patients, always putting them at ease with her gentle nature.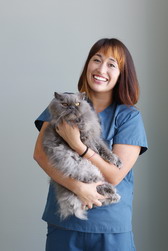 Cory Wakamatsu, CVA (Certified Veterinary Assistant)
A Los Angeles native, Cory grew up in Santa Barbara received her BS in applied mathematics from U.C. San Diego, where she also minored in music and African studies. Legend has it that Cory was raised by the family dogs; chasing cats and barking at the mailman, smelling bushes and sleeping on the floor. After domestication, she developed a passion for guinea pig breeding around age six and would go behind her mother's back(she believed 30 guinea pigs was enough)to just try one more gene crossing, intent on getting the most recessive phenotypes. She's taken care of rats, rabbits, ferrets, hamsters, guinea pigs, dogs, cats, chickens, mice, snakes, bearded dragons, and volunteered at animal shelters and farms. In her free time, Cory enjoys hiking tall mountains (Mt. Whitney, Mt. Kilimanjaro) and scuba diving barrier reefs (Great Barrier Reef, Mesoamerican Barrier Reef). She is an avid drummer, from playing in a punk band to soloing on kettle drums in Carnegie Hall, to performing traditional Taiko drums in Japanese festivals from San Diego to San Jose.
Cory has two cats; a calico , Chloe, and a Maine coon mix, Thor, who were found as orphaned kittens under a remodeled house. She loves them and they tolerate her.
In addition to working here, Cory is currently pursuing a second bachelor's degree in Microbiology, with plans to attend veterinary school in the future. Every patient at WHAH further inspires her to pursue her dream of becoming a veterinarian.